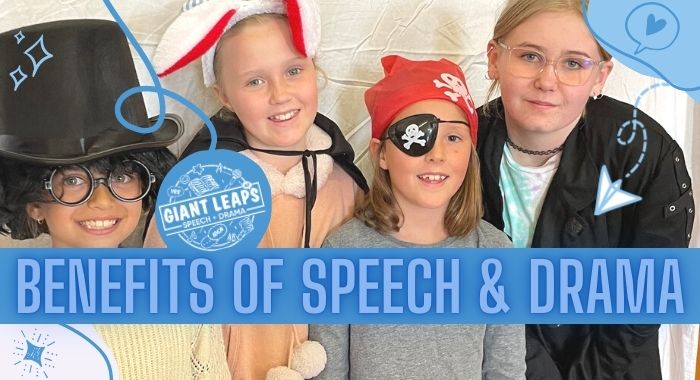 The benefits of Speech and Drama are HUGE!
The positive impacts speech and drama classes have on children's development are often bigger than most parents expect. The benefits of speech and drama classes for children are plentiful. Speech and drama classes support children to develop CONFIDENCE, CREATIVITY, and LIFELONG COMMUNICATION SKILLS. Children learn the skills to become effective communicators and performers. At GIANT LEAPS, both experienced and new children are fully involved in activities to develop these skills at their own pace. During speech and drama classes, our expert team of teachers are developing children that can speak well, perform well, and achieve more in life.
During Speech and Drama classes children develop...
1. SPEAKING SKILLS
We teach our students the foundation speaking skills for effective communication. Children will learn to use a flexible and appropriate voice for clear speaking. During classes our teachers use creative and fun activities to teach children to speak slowly and clearly, to use expression, to project their voice, and to use appropriate volume for different audiences and speaking situations. All of these skills are required for effecting speaking.
2. SELF-CONFIDENCE
We understand that children come to us with different levels of confidence, maturity, and ability. Our small class sizes and experienced teachers help ensure we are able to identify & nurture individual student talent and confidence. Whether your child is outgoing, shy, or somewhere in between, our classes are adjusted to meet their individual needs. We encourage our students to develop at their own pace and readiness. We encourage all of our students to think out of the box, try out new things, enter competitions, participate in exams, learn new skills, and engage actively with other people. We provide a guided pathway for children to experience presenting in front of an audience. Whether it be in front of class mates, in front of parents, or on stage in front of an audience, our students are equipped with experiences and skills to communicate with confidence.
3. IMAGINATION AND CREATIVITY
Imagination and creativity are important for the development of children's brains. These two fundamental skills encourage children to express themselves and think out of the box. Besides that, creativity and imagination also lead to better problem-solving skills and decision-making. During Speech and Drama classes our students are encouraged to express themselves openly and without judgment. We use role play and improvisation activities as a platform for students to create new ideas from personal feelings and experiences.
4. EMPATHY
Speech and drama classes teach children to have empathy and compassion for others. Our classes are filled with activities requiring children to dive into the mind of other characters. We encourage this by exploring role play activities, improvisation exercises, or working on a script. For our students to completely immerse themselves into another person's mind and body, they must take into consideration their character's background, current situation and the personality traits that they have developed over time because of their surrounding environment. Exploring different characters through role play, improvisation, and script work challenges our students to think and act differently. To take a walk in another person's shoes and explore the emotions that they feel. These drama exercises are a great way of connecting with people and understanding them better, and they influence our children to have more empathy and compassion for others during real-life situations.
5. POSITIVE BODY LANGUAGE AND NON-VERBAL COMMUNICATION
Nonverbal communication or body language is the use of gestures, tone of voice, expressions, body posture, to convey a message. The effective and positive use of body language makes up an overwhelming amount of how we communicate and our relationships with others. We teach our students positive body language and nonverbal communication for relationships, building trust and making positive impressions on others.
6. ASSERTIVENESS
Assertiveness is the ability to self-advocate and express yourself while respecting the beliefs and rights of others. It's a quality that all parents want for their kids, although it doesn't always come naturally to everyone. Some children might have no problem looking others in the eye and saying what they think. They may be comfortable offering a different opinion, and know how to ask for what they want. But other children might be quieter and more hesitant. They may avoid disagreement out of fear of a negative consequence and may not know how to stand up for themselves. During speech and drama classes we teach assertiveness with fun and engaging activities that by enable students to advocate for themselves, help others, identify their feelings, feel a sense of control, negotiate and disagree respectfully
7. GOOD MANNERS, RESPECT, and COMMUNICATION ETTIQUITE
Good manners make a child stand out and shine from the others. A child that displays good manners will also encourage the surrounding people to adopt and follow them. We pride ourselves on always modeling and reinforcing good manners, respect and communication etiquette. Speech and Drama classes are positive, energetic, welcoming and supportive - and expect this from our students too! Our class values include supporting each other, having a go, respecting others, listening to others, and taking turns.
At Giant Leaps we believe communication is everything!
Communication is the heart of learning and connecting with others. At Giant Leaps our handpicked team of speech and drama teachers are supporting every child, teenager, and adult to achieve their very best communication and performance skills. These skills are needed more today that ever before! Enrolling your child in a speech and drama class is an investment in their future.
The benefits of speech and drama will last a life time! www.giantleaps.nz/speechanddrama
Published by - Anna Keno, Speech + Drama Teacher, GIANT LEAPS Speech Company (ATCL, ASB, Reg. EPC, BSLT)