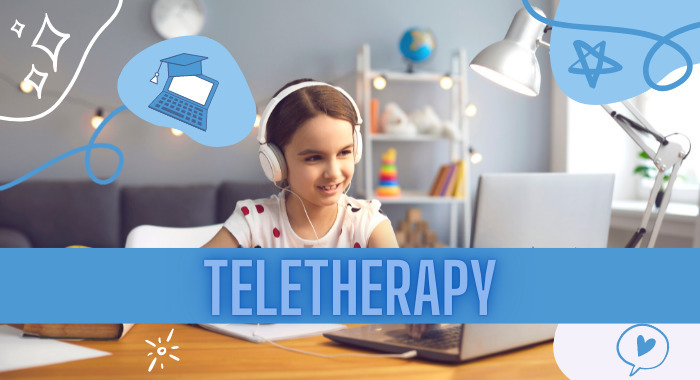 What is Teletherapy?
Teletherapy involves the delivery of professional services online by linking a clinician to their client for assessment, intervention, and consultation. We are incredibly lucky that modern day telecommunication technology can connect clinicians with clients all around New Zealand regardless of isolation or geographical barriers. We live in a world with constantly evolving technology that keeps our brains buzzing trying to keep up. Our modes of communication skills are evolving at a rate that is lightning fast, so it makes sense that therapy services evolve with that technology as well. As with many labels, teletherapy is interchangeable. You may have heard it referred to as telehealth, telepractice or telerehabilitation - among others. They are all the same online professional services.
How does Teletherapy work?
Through an online platform (e.g. Zoom, Skype, GoToTherapy), clinicians connect with their clients via an internet connection and two-way live video. Through the platform, the client can interact with the clinician just as they would if it was an in-person therapy session. There can be hands-on activities, activities involving the platform, and even interactive games between the two. If teletherapy involves a young child, often a parent, or other adult is on the end with the child providing cueing and any "hands-on" techniques that might be needed by the instruction of the clinician. Teletherapy sessions are identical to face-to-face sessions. Your clinician with follow your individual assessment and treatment plan. The only difference is that instead of in person, you are connecting on a two-way video call.
Does it have the same impact as traditional in-person, face-to-face therapy?
There has been a lot of research on teletherapy as it continues to grow as a service delivery model. Teletherapy is widely recognized as an effective method of service delivery. Research has found very few outcome differences between teletherapy and traditional in-person therapy. It is important to remember that regardless if you service delivery, be it in-person or online, the most critical component for success is the relationship between therapist and client.
What do I need for teletherapy?
If you have a computer/tablet with a microphone and camera you are ready for teletherapy! You will also need a strong internet connection. As long as you have those items, you can engage in teletherapy sessions.
What are the key benefits of Teletherapy?
Convenience! You don't have to leave your home, you don't have to feel like you need to clean up for a clinician to visit your home, and you don't even have to put on shoes if you that's not your thing.

Kids love technology. Yes, there are opposite opinions regarding technology with children as a whole, but sometimes it needs to be embraced. Most children love online video interaction and are highly motivated by it. Also, children can feel more comfortable in this setting than with an unfamiliar person. While a lot of adults might not understand the constant connection, kids do!

Access to providers you typically wouldn't have access to otherwise. Those facing isolation or geographical barriers can access therapy in their own home without travelling. If you need a specialized treatment approach, teletherapy can connect you with that special clinician. The options available to clients has grown enormously with the evolvement of teletherapy practices.
Is Teletherapy suitable for everyone?
As with any type of treatment, there is never a 100% guarantee that it will work. Just like some children respond better to visuals than audio, or some children can wear wool and others can't - some children will benefit greatly from the teletherapy method and others will benefit more from a traditional face-to-face.
Right now in New Zealand, teletherapy is an essential model of service delivery for new assessments and ongoing continuity of therapy intervention and progress. If you are interested in setting up a teletherapy session for your child, contact us! It is well worth a try – especially in our current climate!
Published by Anna Keno - Speech-Language Therapist (BSLT, MNZSTA, ATCL, ASB, MSCA)